Why would you want to buy your groceries online? To save on gas prices, perhaps? Or maybe because sometimes you simply don't like to or have time to go out shopping. Either way, with some careful planning, you can make online grocery shopping work for you.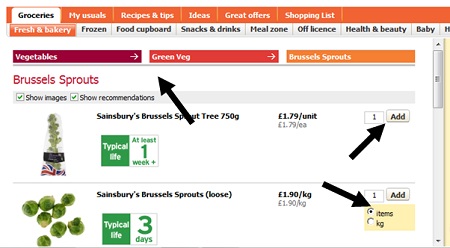 Research
The main online grocers are Peapod, Safeway, Vons, Netgrocer and Amazon. Before doing any of your actual shopping, compare prices from the online grocers to each other and to the price at your local store. Also keep in mind that, unlike your local grocer, online grocers do not accept manufacturer's coupons. However, they might offer other incentives.
Amazon's groceries are sold in bulk. This is good if you often use the same products or if you are part of a co-op. Also consider where you're going to store your extra groceries. When buying in bulk, you will want to determine the price of each individual product. Twelve 10.4-ounce boxes of cereal for $26.74 will amount to approximately $2.23 per box. This is where your calculator comes in handy. If you know you paid, $2.50 for an individual box of the same cereal at your local grocer last week, you know you're getting a good deal. Even if you paid $1.99 for the cereal at your local market, you might still consider this a good deal if you take into consideration not having to pay sales tax, not having to drive to the store and having the product delivered to your door.
Shop through Ebates. Ebates offers rebates on purchases made via online merchants that sponsor the site. When you make a purchase through Ebates, you get a specified percentage of cash back from your purchases. Safeway, Peapod, Vons and Amazon are all merchants listed with Ebates.
Seek special offers. Amazon regularly offers free shipping. In addition, when you go to their grocery site, click the tab for "Sales and Special Offers" to see what merchants are offering percentage discounts and instant rebates.
Buy
As with any grocery shopping trip, keep your list handy and try to avoid impulse buys. If you're shopping to meet a rebate or minimum-purchase incentive, it's best to stick to the products that fall into your selected category before moving on to other items. Bear in mind that you usually can't combine offers or incentives within one shopping order.
Proceed to checkout. Again, avoid impulse buys that the merchant will try to draw you into from the checkout pages.
Before entering your credit card information, check to ensure you are on a secure server. Look in the address bar to make sure the URL begins with https://. The "s" stands for "secure." Verisign is another way to ensure a site is secure. If you're still hesitant, you can use a Paypal account or call and give your credit card information to the merchant via phone.
Sit back and wait for those groceries to arrive!